African Academics in Germany Revitalising African Universities
Synopsis
Edited by G. Mutalemwa
CODESRIA, Dakar, 2019, ISBN: 978-2-86978-855-8
African Academics in Germany: Revitalising African Universities is a thought-provoking work. It challenges African scholars to re-examine their contribution to their motherland. It invites German universities and scholarship providers to assess the relevance of the education offered towards the transformation of African higher learning institutions. The book provides a method of engaging African academics and the diaspora in the revitalisation of higher education. The book introduces a university revitalisation theory which explains the role of internationalisation in socio-economic, cultural, technological and political development.
George Mutalemwa is lecturer in Development and Communication Studies at St. Augustine in Tanzania (SAUT). He has lived and taught in Kenya and Germany. He serves as the Editor-in-Chief of the Journal of Sociology and Development and as Executive Secretary of the Association of Catholic Universities and Higher Institutes of Africa and Madagascar. He has published on participatory development, community-based organisations and academic diaspora. Dr. Mutalemwa was formerly Director of International Programmes at SAUT.
Downloads
Download data is not yet available.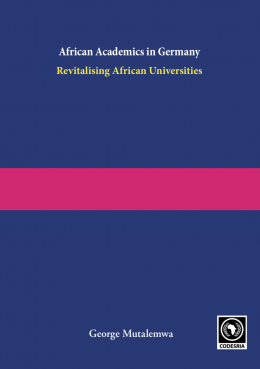 Downloads
Copyright (c) 2019 CODESRIA Books Publication System