Leadership and Crises in Nigerian Universities. Can Women Make a Difference?
Synopsis
Edited by Caroline Okumdi Muoghalu
CODESRIA, Dakar, 2018, ISBN: 978-2-86978-759-9
Currently, globalization has made it necessary that universities operate optimally in order to compete effectively globally. In this regard, crises in Nigerian universities constitute a barrier to this goal and to sustainable development. The book-leadership and crises in Nigerian universities: Can women make a difference? is a phenomenal book which was inspired by incessant crises in Nigerian universities. The book discussed the crises in these universities in all its ramifcations. Importantly, in all these discussions, the book traced this problem to men's autocratic leadership style and established that bringing women into university leadership can actually make a difference in minimizing or eradicating these crises. I describe this book as a book of the moment because as we speak, a lot of crises are going on in universities in Nigeria. As such, providing an alternative leadership model in universities becomes very imperative and this is what this book has achieved. I therefore have no doubt that policy makers, university administrators and other university stakeholders will fnd the book interesting, informative and a great resource in our national and continental march towards building effective and effcient university organization in a globalized world
Caroline Okumdi Muoghalu holds a PhD from the University of Ibadan, Nigeria. She is a medical sociologist who focuses on HIV/AIDS, gender and health, particularly women's health and governance issues. She was a research fellow at the Centre for Gender and Social Policy Studies of Obafemi Awolowo University, Ile-Ife, Nigeria before she joined the Department of Sociology and Anthropology of the same institution. She is an associate lecturer in the Centre for Gender and Social Policy Studies of Obafemi Awolowo University and is an alumna of the Advanced Research Institute of the prestigious Brown University, Rhode Island, USA. Dr Muoghalu has published locally and internationally on urban poor women and governance in Nigeria.
Downloads
Download data is not yet available.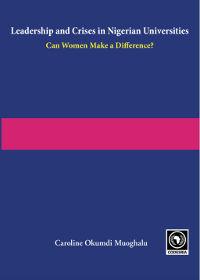 Downloads
Copyright (c) 2018 CODESRIA Books Publication System