Ecological Changes in the Zambezi River Basin
Keywords:
Ecological, Changes, Zambezi, River Basin
Synopsis
This book provides an analysis of the ecological conditions and ecosystem goods and services of the Zambezi River Basin (ZRB), the fourth largest river in Africa. Various environmental and anthropogenic factors; inclusive of climate, environmental flows, hydrology, morphology, pollution and land use changes among others and their interactions are considered as drivers of the river ecosystems. The impacts of these drivers on aquatic biota, river ecological integrity, and the livelihoods of surrounding communities are analysed within the socio-economic-policy context. The book goes beyond the usual inventories and basic research by using the comparative research method (CRM) in a trans-disciplinary manner. This CRM analytical approach in this book seeks to interrogate the differences or similarities in socio-economic systems, livelihoods, ecological systems, ecosystem goods and services, their usage and management under the seemingly different cultural, socio-economic conditions expected across boarders that are within the ZRB. The multidisciplinary approach also connects the typical ecological research with social dimensions in a holistic manner. The book therefore, provides empirical and research based evidence to support strategic planning and policy development in the wake of ecological changes that nations and indeed regions such as the ZRB are grappling with while seeking to sustainably manage precious river systems.
Chapters
Introduction and Background

A Review of the Comparative Research Method

Trends in Ecological Changes: Implications for East and Southern Africa

River Health Assessment in East and Southern Africa

Historical and Future Climate Scenarios of the Zambezi River Basin

Hydrology of the Zambezi River Basin

Environmental Flow Analysis of the Zambezi River Basin
Downloads
Download data is not yet available.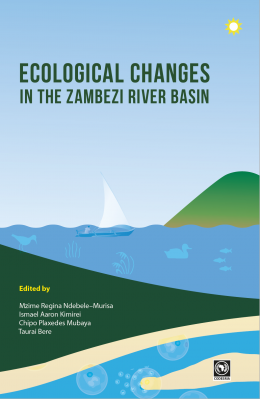 Downloads
Copyright (c) 2021 CODESRIA Books Publication System
Details about this monograph