CODESRIA Policy Brief No. 5, November 2018: Economic Justice in the Age of Climate Change by Prakash Kashwan
Synopsis
Summary
This policy brief outlines a political-economic perspective for studying the impact of climate change in ways that inform pursuits of climate justice initiatives. It emphasises the plurality of interventions needed at the global, international, national, and sub-national levels to effectively address the social-discriminatory effects of climate change and societal responses intended to mitigate and adapt to climate change. While fully acknowledging the importance of sociocultural aspects, this policy brief is premised on the argument that the root causes of climate change and climate injustice have to do with the political and economic inequalities that protect the status quo while sabotaging transformative change.
Prakash Kashwan
Associate Professor in the Department of Political Science in the University of Connecticut, Storrs. He was awarded a Ph.D. in Public Policy (2011) from Indiana University, Bloomington with specialization in Public and Environmental Affairs and Research Methods. Dr. Kashwan is a faculty affiliate of the Ostrom Workshop in Indiana University, Bloomington; a Senior Research Fellow with the Earth System Governance Project (a core project of Future Earth); a member of the Taskforce on Planetary Justice, Earth System Governance Project; and a member of the Academic Working Group on International Governance of Climate Engineering, School of International Services, American University. He is the author of Democracy in the Woods: Environmental Conservation and Social Justice in India, Tanzania, and Mexico (Oxford University Press, 2017) and of numerous articles. He has also contributed popular commentaries to the Guardian, the Washington Post, and the Conversation.
Downloads
Download data is not yet available.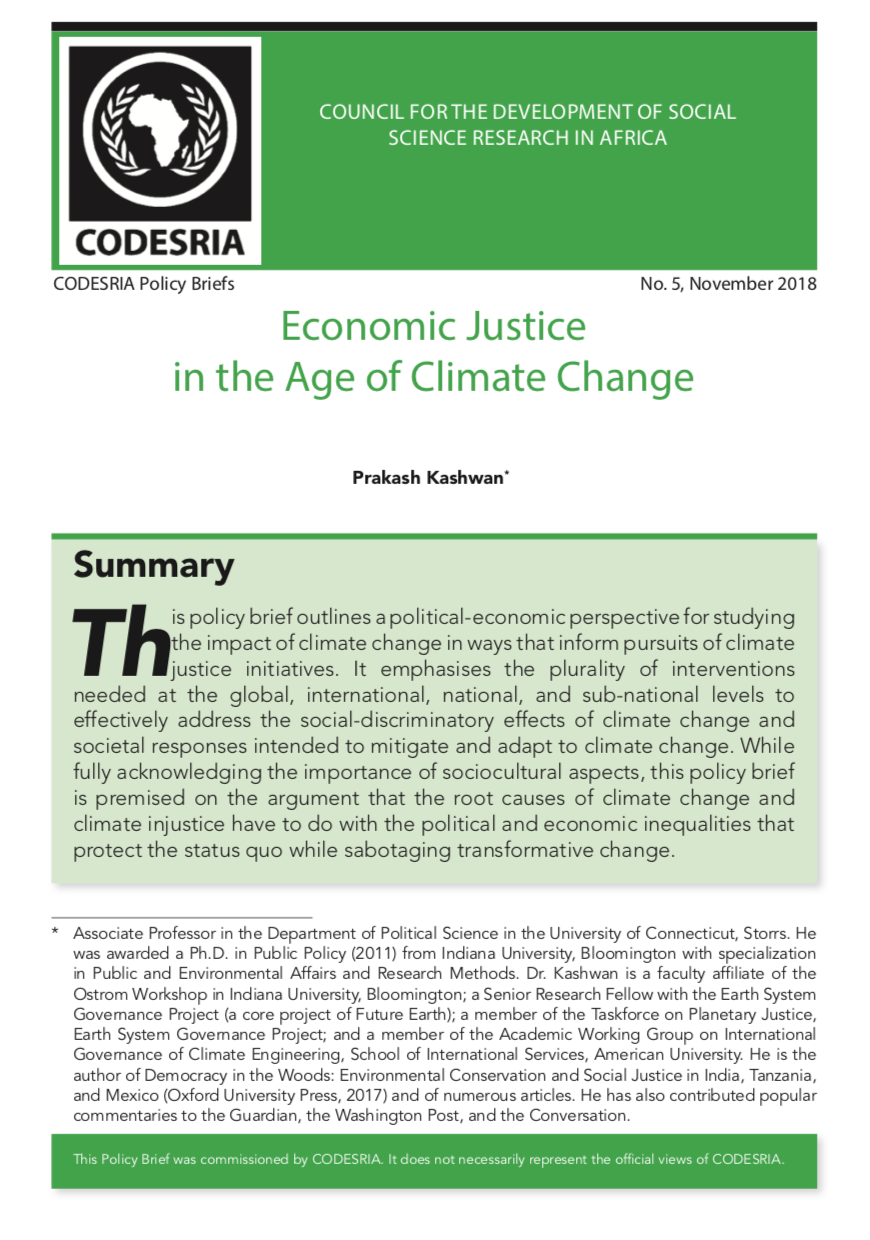 Downloads
Copyright (c) 2019 CODESRIA Books Publication System