African Women and Girls in a Shrinking Civic Space: par Bhekinkosi Moyo and Magdalene Madibela
Keywords:
African Women, Shrinking Civic Space , fundamentalism, intolerance, freedoms
Synopsis
The civic space has always been shrunk historically for women and other marginalised groups. However, it became even more pronounced after the events of 9/11 in the United States of America, the rise of religious fundamentalism, extreme political intolerance and the growth of the internet among others. These gave rise to stringent legal and administrative measures that further curtailed freedoms of assembly, association and expression. Although women form part of civil society, they are affected differently from the broader civil society and from male human rights activists. Women and girls are affected by patriarchal and traditional values and norms. Women are not given equal access and opportunities in the economy. They are further violently treated, sexually harassed and delegitimised. Their reputations are questioned when they take part in civic spaces. Today, cyberspace offers alternative ways through which women challenge political and traditional systems. The need to invest in technology, innovative financing, and building women's solidarity through women-only spaces ; recognising women's work and strengthening their movements is more urgent now than ever before.
Downloads
Download data is not yet available.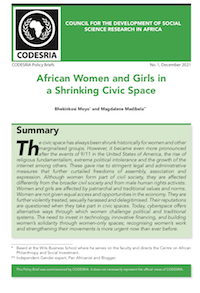 Downloads
Copyright (c) 2021 CODESRIA Books Publication System