A PROJECT 'REPORT SUBMITTED TO THE : : PEPARTMENT OF AGRICULTURAL ECONOMICS UNIVERSITY OF NIGERIA, NSUKKA IN PARTIAL FULFILMENT OF THE REQUIREMENTT S FOR THE AWARD OF MASTER OF SCIENCE
Keywords:
Agricultural credit, farmers, small farms, interest rate, loans, Loans demand, small farmers,, Delta State, Nigeria
Synopsis
The study comparatively analysed and explained the determiriantB of small farmers' demand for formal and informal credit in Delta State. The three agricultural zoneo of Delta State were surveyed. Sampling waa carried out in the selection of two local goverW11ent areae in each zone. The respondents (120) coneisted of 72 farmers, 24 formal lending agencies and 24 informal lending agencies drawn from the three agricultural zones through random sampling. The data were analysed using tables, simple averages, percentage and multiple regression. T-test etatistic was ueed to test the hypothesie. The result showed that 17% of the farmers obtained their loan from formal lending agencies. whil.e 61~ of them obtained their loan from the informal lending agencies. The re111&ining 22~ obtained their loan from f_ormal · and informal loan combined. The study further showed that the amount of loan demanded and obtained from·formal lending agencies ranged row, »500 to N8001, while the amount of loan demanded and obtained from the informal lending agencies ranged from· 11500 to )18000,
Downloads
Download data is not yet available.
References
s.I. (1981). "Nigerian '.l!'armeL'l:l and their Finance Problems", In M.O. Ojol C.. C. :Bdordu and A.J. Akingbade (eds), Agricultural Credit and J.'inance in Nigeria: Problems and Pros~ects. Proceedings of the Seminar Organised by c.E. , f.agos, pp. 107 - 122.
Adam. D.W. (1973). "'rhe Case of Voluntary Savings Mobilization", U.S.A.I.D Spring Review of Small Farmer Ci'edit.
Adam, D.W, and D,1-1. Grahams (1981). "A Critique of 'l'radi tional AgricuJ:turul Developrnient 1:'rojects and l'olicies", Journal of' Development Bconomics, Vol. 8, No. 3, PP• 3l7 - 336. .
Adegeye, A,J. and J.S. Dittoh (1982). Essentials of Agricultural Bconomics. Ibadan, Ni~eria Centre for Agricultural and Rural Development lCAHD).
Adegeye, A.J. a!)d J.s. Dittoh (1985). Agricultural Economics. Ibadan, l'Algeria Limited, Essentials of Impact Publisher, Adekanye, T,0. (1983), Agricultural Credit in Africa.
Implications of the Nigerian Expe:r;ience. Agricultural Administration. Vol. 14, No. 4, pp. 203 - 211.
Ahaiwe, Ivl.O. (1985). 11A critical .!:;valuation of' Imo State Supervised Agricultural Scheme (1977-1984)", Unpublished Postgraduate Diploma Project, Department of Agricultural Economics, University of Nigeria, Nsukka, Ajakaiye, M.B (1990). "Agricultural Lending for RURAL Development: Problems and .Prospects. Paper delivered at the Annual Lecture of the Universit. of Nigeria Alumn Assoc at on, aduna. Vo. 2, o, 3, pp. 2 -37, Aku, P.S. (1986). 11Lending to Farmers through Commercial Banks in a Developing Economy I The NigeL·ian Experience", A/;lricultural S.ystems, Vol, 22, No~. l, pp. 23 - 32, Adrninlstratlon und ~xtension. Vol. 2~, o, 1, pp. 25-20.
Ameachi •·. C.0,E (1986). "Evaluation of bank Participation in Agriculture and Effective Utilization of Credit in J!'arm Management". (An Unpublished 1:'ostgraduate Diploma Thesis University of ~igeria, Nsukka). '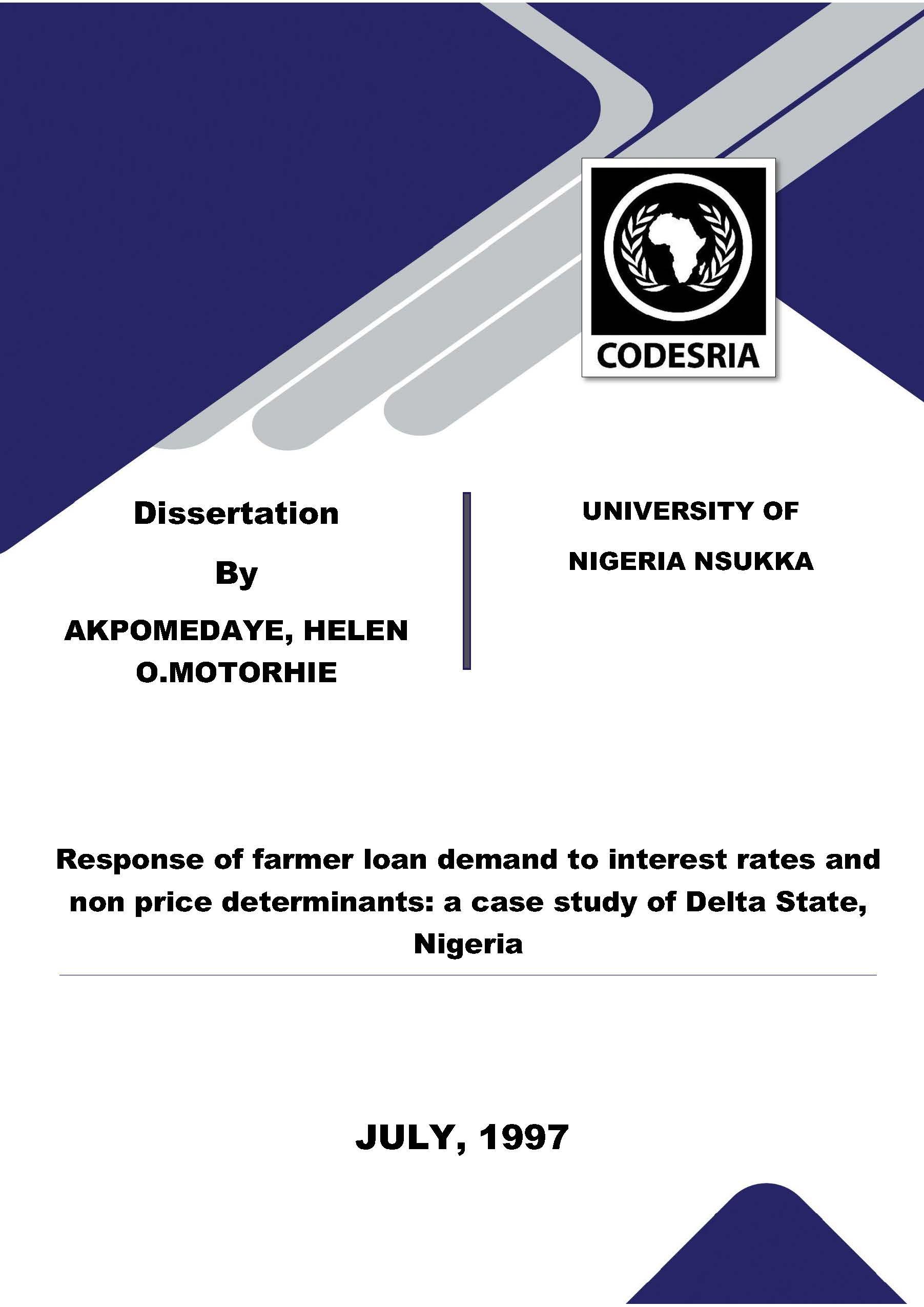 Downloads
Copyright (c) 2023 CODESRIA Books Publication System
Details about this monograph