Politique africaine contemporaine : Le cas de la République démocratique du Congo
Keywords:
politique, Apartheid, démocratie libérale, Bretton Woods
Synopsis
L'essence de la politique, c'est la prescription d'une possibilité en rupture avec ce qu'il y a et pas nécessairement le maintien par tous les moyens de ce qu'il y a. L'exercice ou l'épreuve de cette prescription et les énoncés qu'elle commande, sous l'autorité de l'événement évanoui (marche réprimée contre la faim, par exemple), passe par des réunions, des discussions, des déclarations, des interventions et des organisations, en vue de prises de décisions. La politique est organisée par des dispositifs organisés organisant cette politique.
Cependant, en Afrique, à la place de la pensée politique, on ne rencontre que des manipulations, des intrigues et des discours, essentiellement de la propagande, sinon des descriptions d'institutions, d'« élites », etc. Toute la question de la politique se réduit, de ce fait, à la conquête du pouvoir d'Etat. Ainsi, dans nos pays d'Afrique où l'on conçoit la politique comme une profession et la seule voie pour avoir les meilleurs moyens de vie, elle devient négative, puisqu'elle est incarnée par toutes sortes de gens corrompus et est marquée par des luttes parfois sans merci.
Mais, une nouvelle figure de la politique est en voie d'émerger. Sa question centrale est : Comment changer le monde sans saisir le pouvoir d'Etat ? Comment construire une puissance politique, à partir de la capacité politique des gens, capable de dissoudre les rapports oppressifs de pouvoir ? Comment transformer l'Etat sans une prise de pouvoir d'Etat ?
Downloads
Download data is not yet available.
References
Amin, Samir et Houtart, François (edit), 2002, Mondialisation des résistances : L'état des luttes, Paris : L'Harmattan.
Amin, Samir et Houtart, François (edit), 2003, Notes from Nowhere, We are Everywhere, London : Verso.
Badiou, Alain, 1998, Abrégé de métapolitique, Paris : Editions du Seuil.
Badiou, Alain, 2007, « Préface », Logiques des mondes, Paris : Editions du Seuil.
Depelchin, Jacques, 2004, Silences in African History, Dar es Salaam : Mkuki Na Nyota Publishers.
Devlin, Larry, 2007, Chief of Station, Congo, New York : Public Affairs.
Diop, Cheikh Anta, 1981, Civilisation ou barbarie, Paris : Présence Africaine.
Edgerton, Robert B., 2002, The Troubled Heart of Africa: A History of the Congo, New York : St. Martin's Press.
Fougeyrollas, Pierre, 1980, Les processus sociaux contemporains, Paris : Payot.
Hallward, Peter, 2004 « Haitian Inspiration: Notes on the Bicentenary of Haiti's Independence », Radical Philosophy 123, January, pp. 2-7.
Hallward, Peter, 2005, « The Politics of Prescription », The South Atlantic Quarterly, Fall.
Holloway, John, 2002, Change the World without Taking Power, London : Pluto Press.
Hochschild, Adam, 1998, King Leopold's Ghost, New York : Mariner books.
Kimbwandende Kia Bunseki, Fu-Kiau, 2001, African Cosmology of the Bântu-Kôngo, imprimé au Canada.
Kuyk, Betty M., 2003, African Voices in the African American Heritage, Indiana : Indiana University Press.
Lazarus, Sylvain, 1996, Anthropologie du nom, Paris : Editions du Seuil.
Lazarus, Sylvain, 2002, Les trois régimes du siècle, Paris : Rouge-Gorge.
Mahmood, Mamdani, 2004, Good Muslim, Bad Muslim: America, the Cold War, and the Roots of Terror, New York : Pantheon.
Mantuba-Ngoma, Pamphile Mabiala ; Hanf, Theodor et Schlee, Beatrice, 2006, La République démocratique du Congo: une démocratisation au bout du fusil, Kinshasa : Fondation Konrad Adenauer.
Martens, Ludo, « Démocratie, droits de l'homme et développement au CongoKinshasa (Zaire) ». Une intervention au Colloque international sur le thème : « Démocratie et développement en Afrique », Paris, 27-28 octobre 1990.
Meredith, Martin, 2005, The State of Africa: A History of Fifty Years of Independence, London : Free Press.
Wamba dia Wamba, Ernest, Le leadership et la stabilité politique en république démocratique du Congo, Kinshasa : Mbongi a Nsi n° 10, 7 juin 2005.
Wamba dia Wamba, Ernest , Une initiative citoyenne : la création et le lancement du mouvement congolais d'affranchissement des africains, Kinshasa : Mbongi a Nsi n° 15, 12 octobre 2005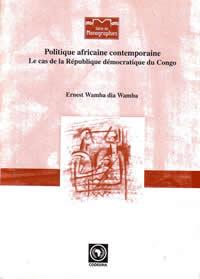 Downloads
Copyright (c) 2012 CODESRIA Books Publication System
Details about the available publication format: Full Book