A PHENOMENOLOGICAL INVESTIGATION INTO THE EFFECTS OF TRADITIONAL BELIEFS AND PRACTICES ON WOMEN AND HIV & AIDS, WITH SPECIAL REFERENCE TO CHIPINGE DISTRICT, ZIMBABWE
Keywords:
Investigation, traditional, women, HIV & AIDS, ZIMBABWE
Synopsis
The thrust of this study is to highlight and expose the effects of HIV and AIDS on the traditional Ndau woman in Chipinge District. This thesis emphasises how much the woman in Chipinge has sacrificed in terms of providing care to people living with HIV and AIDS (herein after referred to as PLWHA). Apart from examining this and the other diverse burdens that women carry, this project highlights how Ndau women in Chipinge have been key to the overall response to HIV and AIDS. This is achieved through application of cultural hermeneutics of the Ndau religion, the traditional religion of Chipinge. I apply a hermeneutic of suspicion to assess the role played by some Ndau traditional practices which fall into the category of Harmful Cultural Practices (HCPs).Most of these, as analysed, are embedded in most traditional marriage practices as is explained in chapter 2. Furthermore, I employ a hermeneutic of commitment and a hermeneutic of liberation as I argue that not all Ndau practices affect women negatively with regards to HIV and AIDS: there is still a silver lining in the 'not so dark' cloud. I look for alternative ways in which Ndau practices and custom can be re-interpreted and contextualized in a helpful way to fight the epidemic. This purpose is achieved especially in chapter 4. This research is motivated by feminism, and in particular, liberal feminism.
In this project I strongly argue that though most African traditional practices have been assessed negatively, and most are known to victimise women, their liberation can still happen within their own traditional societies. Though I do not argue against any other means such as new religious ideologies and westernisation, my argument is that though most Ndau traditional societies victimise women, there still exists redemptive beliefs and practices for women within the traditional setting of the Ndaus. I look for liberating resources that can be tapped from folklores, myths and other forms of oral literature in Ndau religion. I argue for the silver lining in the dark cloud presented by some harmful cultural practices (HCPs) that present African Traditional Religions (ATRs) as oppressive and ruthless to women. In this thesis, I deliberate on how the roles of women should not be looked down upon, and why maleness should not be a means to power if the response to HIV and AIDS is to be effective. Ndau traditional culture presents women mostly at the receiving end, particularly in the era HIV and AIDS. It is key to understand that this thesis therefore becomes a microcosm of the macrocosm. What this study comes up with can have basic information on women, HIV and AIDS, and many other traditional societies. As such, this thesis provides a social framework on how such cultures and customs can be contextualised, reinterpreted, remodeled, adapted and adopted in the framework of HIV and AIDS. Apart from cultural hermeneutics as a method, sociology of religion is key in this project. Interviews particularly snowball sampling gives results. However, the overarching methodology employed in this study is phenomenology of religion, as suggested in the topic. I gather information for this project through such ways as mentioned earlier, but central is the idea that 'the believer is always right', which is key in phenomenology. The results of my research try as much as possible to present what the believer presents to the researcher, trying by all means to be unbiased.The effects of HIV and AIDS on women are ruthless, but however, there are some positive effects which are not so much talked about as the negative effects.
Downloads
Download data is not yet available.
References
Chikati, elderly woman, Mutema village, 4/05/07.
Chinheya, an elderly man, Chikore Township, 28/06/07.
Dhliwayo, a husband from a polygamous household, Rukangare village 22/04/07.
Gavhumende, a male correspondent from a household that had daughters sent for marriage at an early age, Mariya village, 12/04/2007.
Group Interview, Rimayi village, Chipinge, 10/01/09.
Makamanzi Leah, a young woman in her early 30s, Harare, 17/01/09.
Makuyana Chido, a lady in the late 30s, Rimbi shopping centre, 15/04/07.
Muhamba Sister, the then Sister in Charge at Mt Selinda Mission hospital, 12/12/02.
Mutisi, an elderly widow, Mt Selinda,05/07/07.
Nheketwa, a woman aged 25 who married as a wife of an avenging spirit, Mariya village,12/04/07.
Shoko, T., University of Zimbabwe lecturer ATRs, 11/07/09.
Sigauke, Pastor, Chipinge, 15/08/07
Sigauke, P, a male correspondent , Pfidza, Chikore, 18/12/06.
Sibiya, an elderly man in Chipinge, 29/06/2007.
Tambudzayi, a young woman in her early 20s in Madhuku village, 10/0407.
Tshepo Mlambo, a young daughter in law now the head of a household, Tamandai,18/06/07.
Zhongoro,a grandmother taking care of orpharned children, approximately more than a 100 years old, Mariya village, 25/12/08.
Zindi,F., a musician, producer and lecturer at the University of Zimbabwe, 17/08/99.
Zuka, a grandmother taking care of PLWHA from Manzvire village, 15/05/07.
Chipangwi, S.D., 'The Development of African Participation in the Blantyre Synod' , Unpublished Seminar Paper, University of Malawi, 1972.
Chitando, E., 'The Appropriation of African Traditional Religions in African Theology:
A Phenomenological Investigation', Unpublished doctoral thesis, University of Zimbabwe, Department of Religious Studies, Classics and Philosophy, 2001.
Dube, M., 'Module 2, Gender Religion and HIV and AIDS Prevention', 2005.
Dube, M., 'In the Circle of life: African women theologians' engagement with
HIV/AIDS', paper presented at an EHAIA-Circle Conference, Johannesburg, 2006.
Mapuranga, T.P., 'Facing up to AIDS: The Plight of women with special reference to African Traditional Religion in Chipinge District', Unpublished M.A. Dissertation, 2001.
Mndende, N., 'Religion and AIDS in Africa: African Traditional Religion Response', Unpublished paper read at the Conference on, 'Prolonging life, Challenging Religion', Justo Mwale, Lusaka Zambia, April 15-17, 2009.
Report on the Gender, HIV and AIDS and University Youth conference, 17-20 October 2002.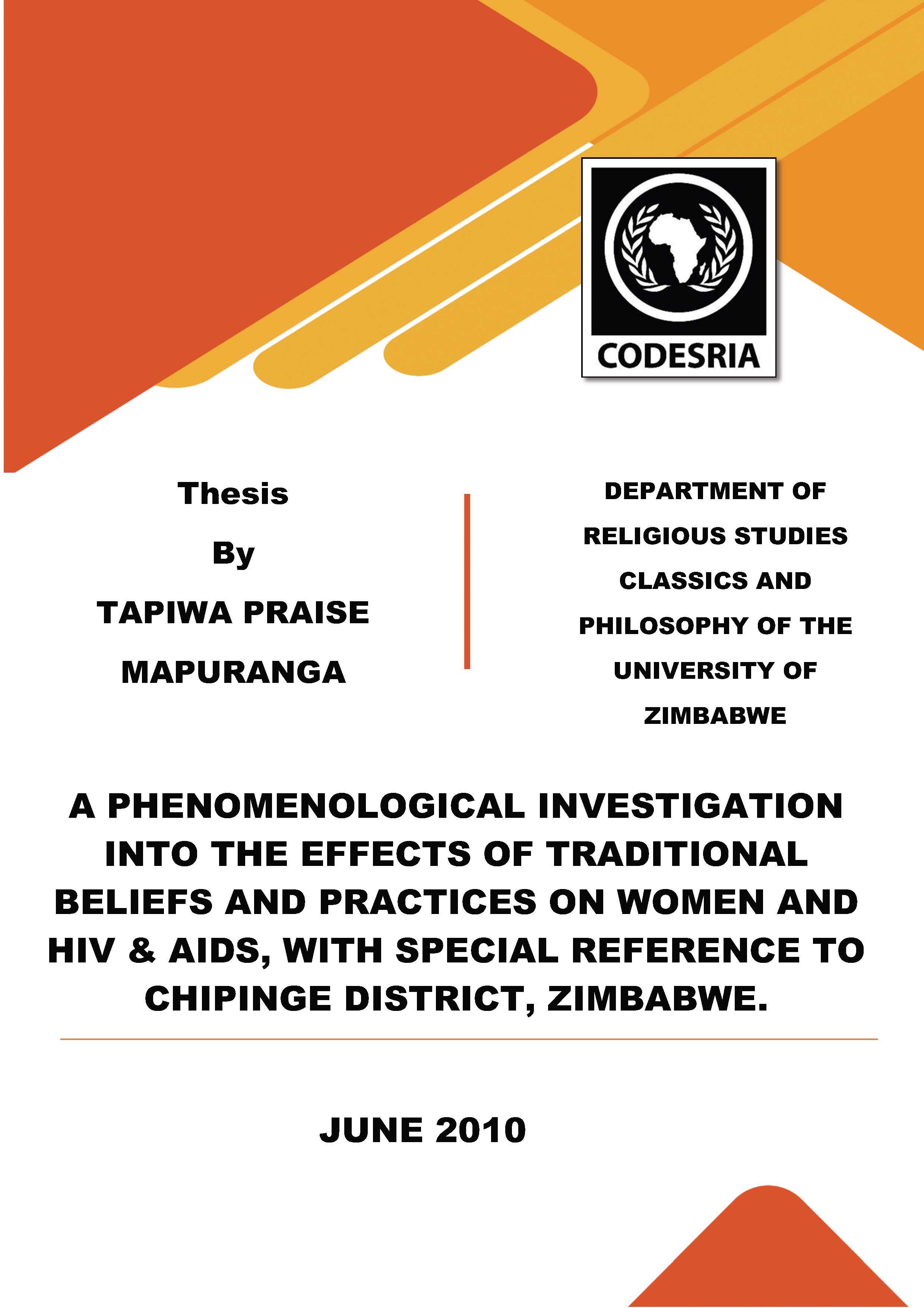 Downloads
Copyright (c) 2023 CODESRIA Books Publication System
Details about this monograph